DOONE-Tiny Hill Farm
TINY HILL ISLE OF MULL DOONE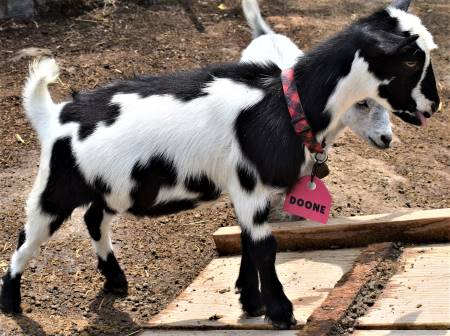 PD2292180 ADGA Registration
DOB: 03/23/2023
Doe: Doone
Discription: BLACK AND WHITE PINTO
Doone's Sire: PD2119216 TINY HILL FARM MOONAGEDAYDREAM is on the August 2023 ADGA Elite List: SG Tiny Hill Farm MoonageDaydream *B (92th percentile buck)
Sire Awards: 8-6-2020 *B Buck
Description of Sire: CHAMOISE WITH EXTENSIVE MOON SPOTTING AND MINIMAL RANDOM WHITE
Doone's Sire: ELITE Buck SG Tiny Hill Farm MoonageDaydream *B – David(barn name for Doone's sire) (Highest living ETA/PTA Elite buck SG Sugar Moon V High Roller ++*B X TOP TEN SG Tiny Hill Farm Sansa 1*M) DOB 3/3/20 Chamoise with white and extensive moon spotting. David qualified for ADGA's 2020 Young Sire Development Program. This far-out buck has outstanding mammary, milk production, and udder longevity genetics which are precisely what we want in our herd. His very first daughter on milk test, Elite Doe SG (pending)Tiny Hill Farm Hazel Decker 7*M is a 99th percentile Elite doe who produced 1,130lbs of milk over her first lactation as a milking yearling. David (barn name for MoonageDaydream) made the August 2023 ADGA Elite Buck List. He carries recessive black coat coloration. David's ADGA page.
Daydream- David (Doone's Sire) Pictured below (picture credit to Tiny Hill Farm)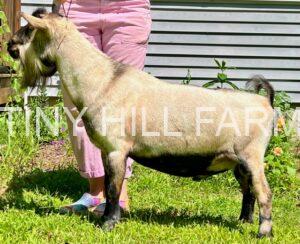 SS: PD1718733 SG SUGAR MOON V HIGH ROLLER
Linear Appraisal: 7/15/2016
Certificates: 20201038226; 20150563058
Discription of SS: CREAM & GOLD
PD1579881
SG SUGAR MOON VIVA LAS VEGAS
PD1427310
SG NC PROMISEDLAND SIA
SD: PD1712550 SG THE TINY HILL FARM SANSA
Awards:
| Date | Year | Code | Description |
| --- | --- | --- | --- |
| | 2020 | | |
| | 2018 | | |
| | 2016 | | |
| | 2016 | | |
| | 2016 | | |
Discription of SD: CHAMOISEE WITH MOON SPOTS
Certificate: 20150554295
Linear:
and
8/17/2018
PD1586872 OLD MOUNTAIN FARM STINGN NED L
PD1627246 OLD MOUNTAIN FARM JOHANA FAITH
PD1542318 OLD MOUNTAIN FARM PARTY ANIMAL
PD1459493 SUGAR MOON INDIAN SUMMER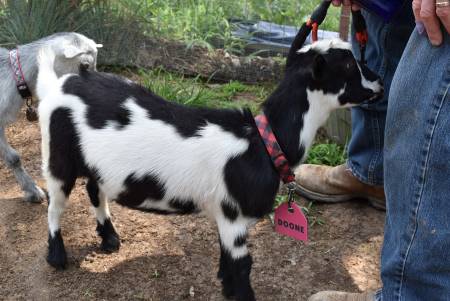 Thinking about adding to your herd or maybe getting started with goats? Doone's kids are considered some of AppleJo Farms most valuable and first to be Reserved. Don't wait long to get your Reservation in!!!

Here's why AppleJo Farms chose 3 Tiny Hill Nigerian Does and 1 Tiny Hill Farm Nigerian Buck which all come from does on the ADGA elite list, to be the foundation of the new AppleJo Farms Nigerian Dwarf Dairy Goat Herd:
"In 2022 we had ten does on the ADGA elite list. We've got dairy stars for days, and all our bucks are *B with daughters, sisters, or both daughters and full sisters on milk test. We've got two ADGA Young Sire Development Program Qualifiers, and in 2020 we had two ADGA Top Ten does.

We are thrilled and completely shocked to announce how many Tiny Hill Farm goats made the August 2023 Elite list. FIFTEEN! Doone's Dam is one of these: SG Tiny Hill Farm Minerva Terrace 6*M (98th percentile. High test day this year is 6.6lbs)"

AppleJo Farms Chose Doone because she has the potential from both her Sire & her Dam to be a super-productive Dairy Goat and produce the same in her kids.

To understand Doone's value and what it means to you, the potential owner of one of her kids, let us explain more about her breeder.

Breeder, Larissa Mullen: "Let me tell you about what makes our farm a bit different than others. We breed ultra- productive Nigerian dwarf dairy goats with a focus on humanely breeding healthy goats with a long, productive lifespan. We have some extremely competitive milking genetics, including two Top Ten does in 2020, 15 Elite goats in 2023, and four ADGA Young Sire Development Program Qualifiers in 2020."
There are no products matching this criteria. Please try again.