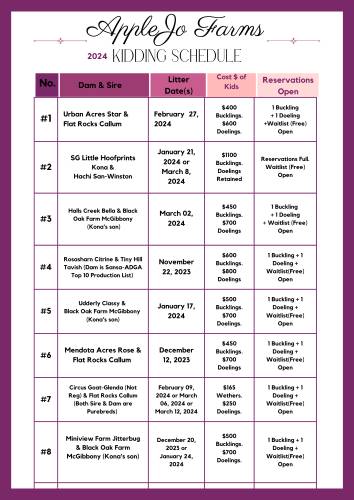 AppleJo Farms
Registered Nigerian Dwarf Dairy Goats
and
Homestead Country Store
Behold the wondrous homestead of AppleJo Farms, nestled at the doorstep of the beautiful Ozark Hills and Mountains of Missouri. We welcome you to sample and purchase our most luscious and nutritious raw or pasteurized goat milk, whisked into being by our Nigerian Dairy Goats. We also offer farm-fresh eggs from chickens fed with select natural feed, a true delicacy of the Homestead.

Come every Friday and the last Saturday of each month beginning January 5, 2024, from the dawn's first light until the evening's last rays, to AppleJo Farms Homestead Country Store, where we offer our wholesome delicious bakery delights as well as sourdough breads. Oh, such a sight to behold, where the bounty of nature is transformed by the skillful hands of a family, with love and the Homesteader spirit of our parents and grandparents before us.

Call ahead/text 417-665-8996 or place your pre-orders here on our website, at least 2 days prior to pick-up each Friday and the last Saturday of the month to ensure we will have exactly the items you want. This all begins January 5, 2024.
KIDS FOR SALE Now!
SEND INQUIRIES TO EMAIL:
applejofarms@gmail.com or
Text me: 417-665-8996
When Contacting AppleJo Farms please include the name and number of the kid(s) you are interested in from the list below.
Mazie's Twin Bucklings: Chocolate & Taupe colors with stripes and minimal spots; blue eyes. Both bucklings are fully human socialized making them excellent pets.
Buck Currently For Sale: (Pictured Below) $600 Finnegan
Old Mountain Farm Rekn N Force PD1864296 and PD1851643 URBAN ACRES PAIN IN THE ACE and
PD2011947 ILENESRASCALS HACHI SAN and
PD2021691

N GOATFARM UDDER'LY CLASSY

Genetics-
DNA tested, ADGA Registered Buck & Laboratory Tested negative for common goat diseases May 2023
Finnegan's Sire: *B buck (Winston) and is owned by AppleJo Farms
Finnegan is Registered and for Sale.$600 Text: 417-665-8996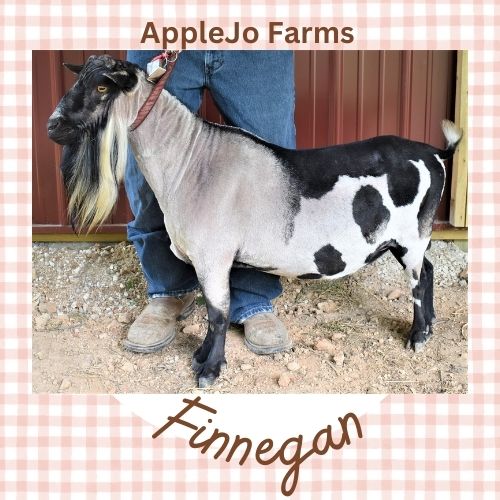 2023 begins DNA testing on all bucks and does we breed from here at AppleJo Farms.
Why? DNA verification is a form of quality assurance for the selection of breeding animals. When you buy a kid from AppleJo Farms, you are getting exactly what their Pedigree says you are getting, no guessing!
NEWS:
From ADGA Jim VanDerlinde
Performance Programs Manager
American Dairy Goat Association:

DNA RESULTS
Parentage and Genetic Marker results

for PATS BLACK OAK FARM MCGIBBONY(ADG33279)

PATS BLACK OAK FARM MCGIBBONY PD2271962 qualifies as an offspring of LITTLE HOOFPRINTS KONA PD1718990 and PATS BLACK OAK FARM SAMSON PD2130910.

The DNA type for PATS BLACK OAK FARM MCGIBBONY(ADG33279) is listed as a permanent record or parentage tested and is now on file in the ADGA database
ALPHA-s1 CASEIN RESULTS for McGibbony: A/B
A and B variants are associated with a high content of alpha-s1 casein in milk. Milk with high levels of ALPHA-s1 CASEIN is said to produce a firmer curd in cheese making.
Phenotype: The gene underlying the production of alpha-s1 casein in goat's milk shows polymorphisms that affect the amount of protein and fat produced. Higher levels of alpha-s1 casein are associated with the best cheese-making.
Please read all about McGibbony, the offspring of famous LITTLE HOOFPRINTS KONA, who also is part of

AppleJo Farms

herd. Kona (McGibbony's Dam) is #1 in Top Ten MILK PRODUCTION (2130# of milk for the year) AND #1 in Top Ten Protein Production in the nation, 2021.

McGibbony is bred to Jitterbug and Classy thus far for the January 2024

AppleJo Farms

kidding season. If solid milking and cheese production and correct confirmation are qualities you want in your herd, please email us to get on their waitlist or make reservations ASAP: applejofarms@gmail.com

Kona's Reservation list is already full, and we are taking Wait List applicants only, for her, at this time.
When Will Goats Milk Be Available For Sale Here at AppleJo Farms?
AppleJo Farms milking routine will begin again January 2024 in our brand new Dairy Barn Milking facility. We allow our does to raise their own kids, separating them from one another at night once the kids are eating solid feed. This provides plenty of milk for the farm family each morning and, we feel, produces healthier, much more human socialized kids. Once kids are weaned we drop most of our does down to a once-a-day milking schedule unless the demand from milk customers requires twice-a-day milking.

New Testing is being done on all of AppleJo Farms Goats. Each goats DNA is used to perform this very important test to find out what variants our milk contains of Alpha-S1 Casein

The gene underlying the production of Alpha-S1 Casein in goat's milk shows polymorphisms that affect the amount of protein and fat produced. This test detects variants known to be correlated with high and low production levels of alpha-s1 casein.

Phenotype: The gene underlying the production of alpha-s1 casein in goat's milk shows polymorphisms that affect the amount of protein and fat produced. Higher levels of alpha-s1 casein are associated with the best cheese-making, and research suggests that low levels may be associated with reduced milk sensitivities for some people.

E, F, N = associated with low content of alpha-s1 casein

A, B = associated with high content of alpha-s1 casein
New Beginning January 2024
AppleJo Farms is a Family Owned Homestead. We will be offering For Sale fresh Goats Milk by the Gallon or Quart, Low to No Sugar Baked Goods with Organic flour, Farm Fresh Eggs, Fresh organically grown produce in season, Jams and Jellies, etc.

We have a small Homestead Store here at AppleJo Farms new Dairy Barn. Beginning January 2024, we will be open every Friday from 10 a.m. to 6 p.m. and the last Saturday of each month from 9 a.m. to Noon. You will want to place your orders 1 week in advance or stop by to shop what we have fresh in supply on the days we are open.

Established customers may make arrangements to pick up from our Homestead Store by appointment.
Questions always welcome!

Text: 417-665-8996

What's New at AppleJo Farms?

Tranquil Goat Mist

Order up to 5 pocket size glass bottles of Tranquil Goat Mist for just $8 each with one $8.99 shipping fee here in the

HOMESTEAD STORE.
2023 AppleJo Farms'

Homestead Goals & News For the Season

I'm so proud of all of you Modern Homesteaders! People ask me why I have invested so much effort and money in such top quality goats when I don't show or put them in performance programs at this time. Here's the reason. The time and expense involved in participating in those excellent programs, will take away from accomplishing my chief goal & vocus. This is to support Homesteaders like you! I want all of you who have the need for a highly productive dairy herd to be able to afford to buy them at a reasonable fair price and flourish under your care. To do this, I need to be here at AppleJo Farm tending to the daily needs of our herd and the Homestead, spending resources wisely. The results are worth it! Kids available from our breeding are robust, human socialized, with higher volume & quality milk production & show potential. All of that and more, available at an affordable price for many Homesteaders.

2023 has been all about finding the very best genetics in specific Dams and Bucks which have an outstanding record in Performance Programs such as the ADGA Top Ten Performance Breed Leaders List. These are leaders in Milk Production, Butterfat Productions and Protein Production. Also, other Performance Programs and ADGA National winners have factored prominently in my search of bucklings and doelings to add to my new herd in 2023.

I will have top milk performance does having kids available in a few short months. Put your Reservation or Wait List request in now to be notified when kids arrive!

To be on a specific does

kid Reservation list,

a $200 per kid, non-refundable deposit needs to be made at the time you make your kid choices.

New for 2024:

AppleJo Farms will be offering Goat Transport for kids purchased by Homesteaders in Missouri. This Transport service will help make it possible for many to purchase AppleJo Farms kids and pay for us to Transport your kids directly to you at your Homestead.

We still encourage all who can make the trip to pick up your kids here at AppleJo Farm to do so as the

Free Pick-up-Day Workshop

is worth participating in. You will learn how to tattoo and give injections and hoof trim and fully care for your kids as they come home to your Homestead.

Just as promised:
Welcome AppleJo Farms new Herd Sire!

Black Oak Farms McGibbony!
McGibbony WAS Born Sept 23, 2022 at Black Oak Farm to the current #1 Doe Breed Leader ADGA SG LITTLE HOOFPRINTS KONA 2021 PERFORMANCE BREEDLEADERS:

#1 in MILK PRODUCTION + #1 in PROTEIN PRODUCTION
McGibbony is the last kid to leave Black Oak Farm as Pat Christopher has retired now.

New Herd Arrivals!

Doeling-Mirikoza Farms Caity

Dam: Herdrock Sweet Caroline 3*M VVV+ 84

Sire: Dill's ROD BOB THE BUILDER *B (Linebred

on SGCH Dill's XM Keena 4*M EEEE92 and

SGCH NC Promisedland Pal Macarena 5*M VEEE91)

Doeling-Mirikoza Farms Ellie

Dam: Sycamore SS uc caramel apple 4*M

+vvv 86 (She earned her AR star in milk production, butterfat, and protein in 2022 at 3 yr)

Caramel Apple is the paternal half-sister of 2022 National Champion GCH Agape's Prize French Quarter.

Sire: Cedar View Fabiano *B - his Dam is on the Top 10 in milk production(1620 lbs) and protein
From Tiny Hill Farm in Milton Mills, New Hampshire:
PD2292180 TINY HILL ISLE OF MULL DOONE
PD2292179 TINY HILL GALLOWAY CALLIE
PD2292178 TINY HILL TOBERMORY ELSPETH
PD2292177 TINY HILL SCOTS TAVISH
Here's why I chose these Tiny Hill Nigerian Goats from does on the ADGA elite list, to be the foundation of the new AppleJo Farms Nigerian Dwarf Dairy Goat Herd:
"In 2022 we had ten does on the ADGA elite list. We've got dairy stars for days, and all our our bucks are *B with daughters, sisters, or both daughters and full sisters on test. We've got two ADGA Young Sire Development Program Qualifiers, and in 2020 we had two ADGA Top Ten does."
Welcome Home Flat Rocks Silver Kids
to AppleJo Farms!!!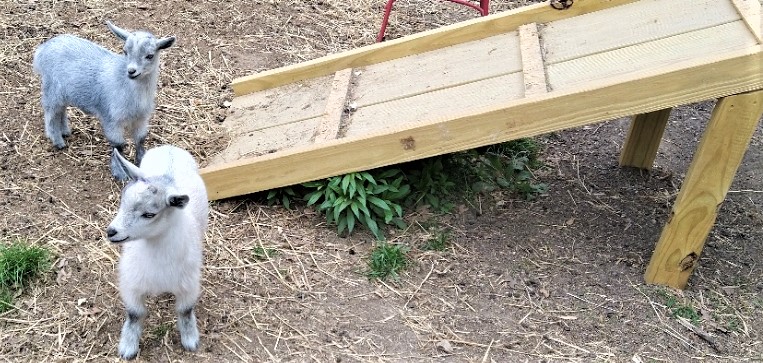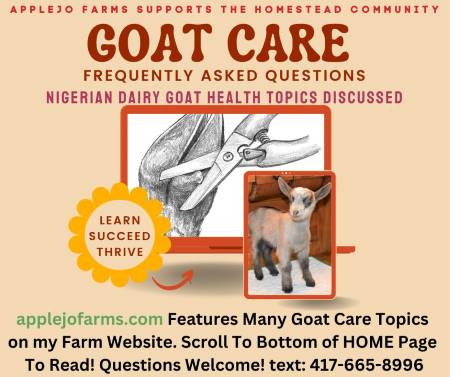 New to Goats?

Need Help Identifying Goat Health Concerns & how to care for them? The Informational Pages Below are packed with must learn Goat Care. Feel free to print them off and to email me with questions: applejofarms@gmail.com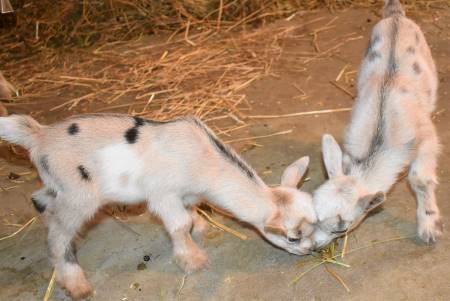 AppleJo Farms is an
ADGA Registered Herd Name