AppleJo Farms Location: Eldon, Missouri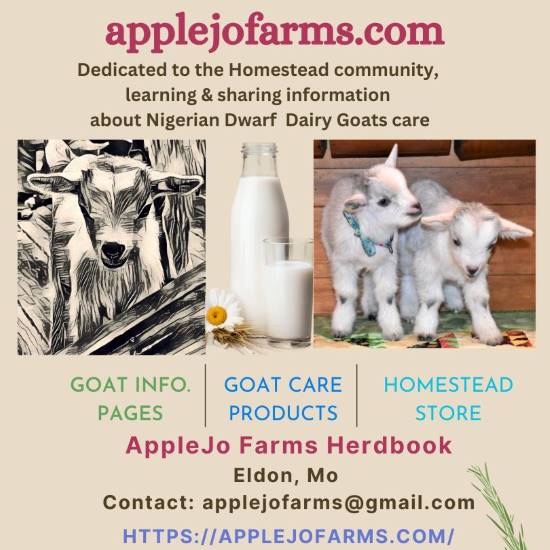 2 AppleJo Farms Doeling Kids are Available May 30th:

Isobel & Bonnie $325 each or both for $600!

Unregistered & Nigerian Dwarf Purebred
Disbudded, Vaccinated, Dewormed, Nutrients Given, Hoofs trimmed at pickup (8 weeks), Dam raised, human socialized.

Sire:AppleJo Farms Finnegan Registered

Dam: Glenda Not Registered

Over the years of raising goats, meeting wonderful customers and many new to goats, I became aware of a real need to help these folks get a good start with their goats and be able to find the products they absolutely need to keep their herd healthy. Often, these products are very expensive when large containers must be purchased and is not needed for the amount of goats you have.
I have put together a few of these and offer some in complete kits as well. There is not a big profit here as my primary goal is to help others as they begin and continue their journey with Nigerian Dwarf Dairy Goats. Scroll down to shop these items or click on Homestead Store above.
2023 AppleJo Farms New Herd Plans are

Under Way!

2023 is all about finding the very best genetics in specific Dams and Bucks which have an outstanding record in Performance Programs such as the ADGA Top Ten Performance Breed Leaders List. These are leaders in Milk Production, Butterfat Productions and Protein Production. Also, other Performance Programs and ADGA National winners factor prominently in my search of bucklings and doelings to add to my herd in 2023.

I will have 3 of these top performance does having kids available late this year. Put your Reservation or Wait List request in now to be notified when kids arrive!

Just as promised:
Welcome AppleJo Farms new Herd Sire!

Black Oak Farms McGibbony!
McGibbony WAS Born Sept 23, 2022 at Black Oak Farm to the current #1 Doe Breed Leader ADGA SG LITTLE HOOFPRINTS KONA 2021 PERFORMANCE BREEDLEADERS:

#1 in MILK PRODUCTION + #1 in PROTEIN PRODUCTION
McGibbony is the last kid to leave Black Oak Farm as Pat Christopher has retired now.

New Herd Arrivals!

Doeling-Mirikoza Farms Caity

Dam: Herdrock Sweet Caroline 3*M VVV+ 84

Sire: Dill's ROD BOB THE BUILDER *B (Linebred

on SGCH Dill's XM Keena 4*M EEEE92 and

SGCH NC Promisedland Pal Macarena 5*M VEEE91)

Doeling-Mirikoza Farms Ellie

Dam: Sycamore SS uc caramel apple 4*M

+vvv 86 (She earned her AR star in milk production, butterfat, and protein in 2022 at 3 yr)

Caramel Apple is the paternal half-sister of 2022 National Champion GCH Agape's Prize French Quarter.

Sire: Cedar View Fabiano *B - his Dam is on the Top 10 in milk production(1620 lbs) and protein
From Tiny Hill Farm in Milton Mills, New Hampshire:
PD2292180 TINY HILL ISLE OF MULL DOONE
PD2292179 TINY HILL GALLOWAY CALLIE
PD2292178 TINY HILL TOBERMORY ELSPETH
PD2292177 TINY HILL SCOTS TAVISH
Here's why I chose these Tiny Hill Nigerian Goats from does on the ADGA elite list, to be the foundation of the new AppleJo Farms Nigerian Dwarf Dairy Goat Herd:
"In 2022 we had ten does on the ADGA elite list. We've got dairy stars for days, and all our our bucks are *B with daughters, sisters, or both daughters and full sisters on test. We've got two ADGA Young Sire Development Program Qualifiers, and in 2020 we had two ADGA Top Ten does."
Welcome Home Flat Rocks Silver Kids to AppleJo Farms!!!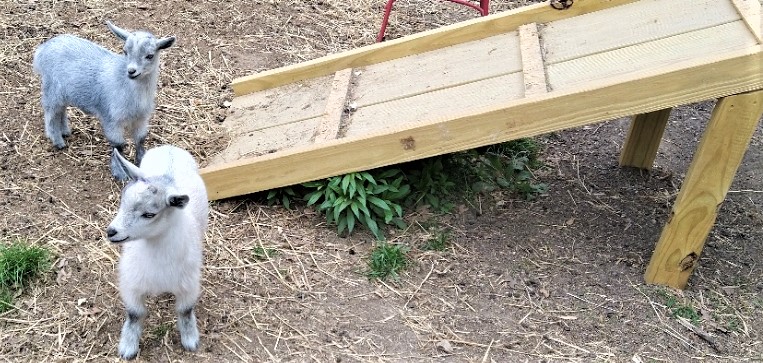 Also welcoming this New Doe who will have kids late this year available:

ROSASHARN WS CITRINE coming to AppleJo Farms from
Old Province Nigerian Dwarf Dairy Goats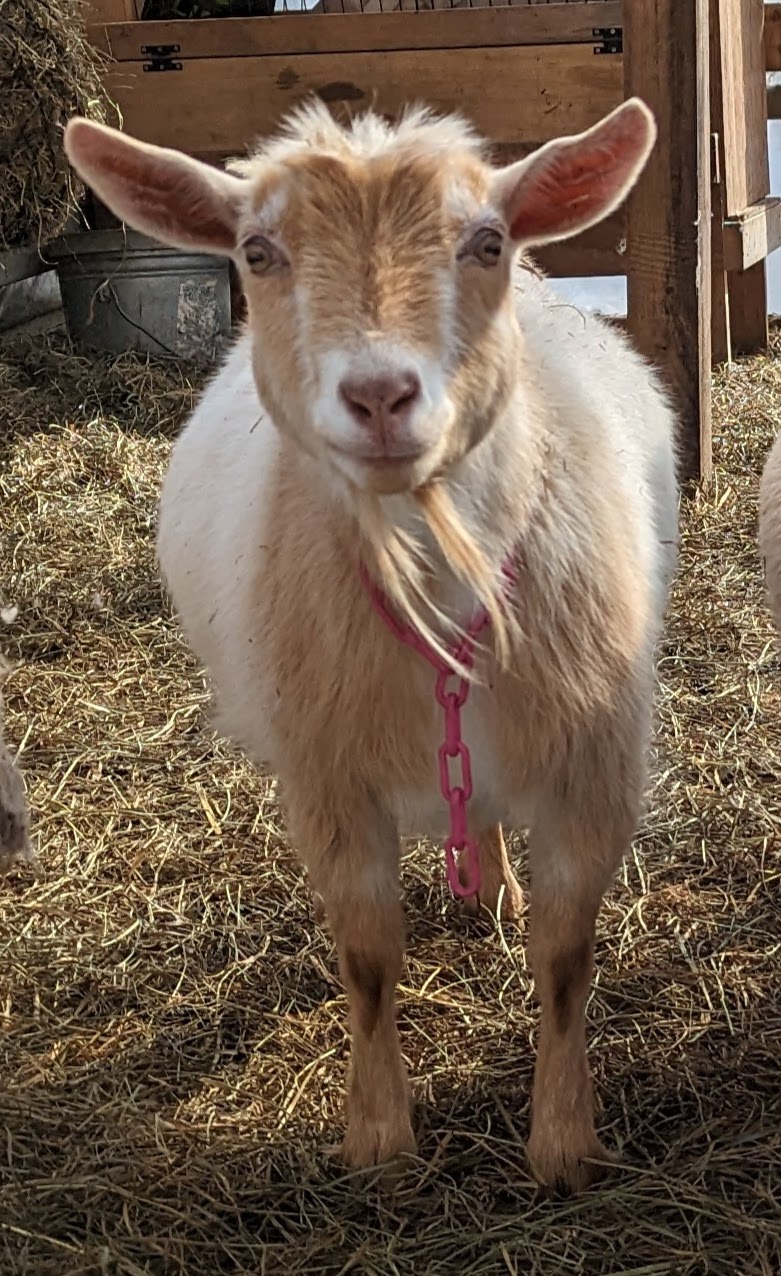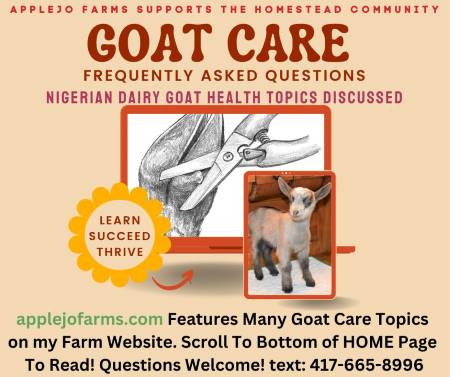 New to Goats?

Need Help Identifying Goat Health Concerns & how to care for them? The Informational Pages Below are packed with must learn Goat Care. Feel free to print them off and to email me with questions: applejofarms@gmail.com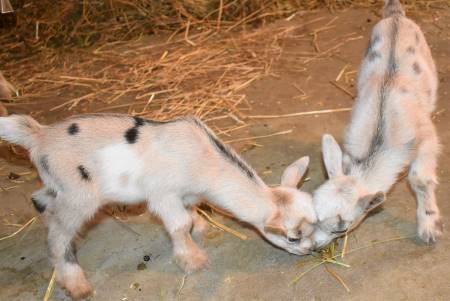 AppleJo Farms is an
ADGA Registered Herd Name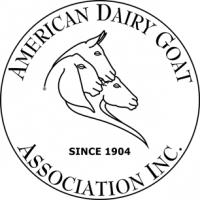 Contact me: 417-665-8996 by first texting.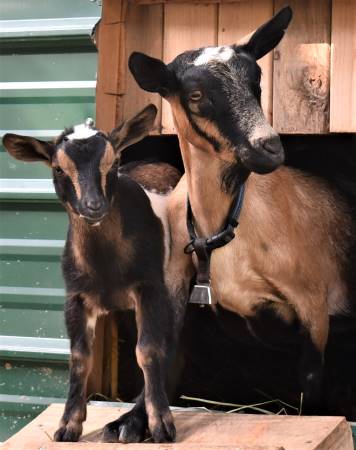 ADGA AppleJo Farms Registered Nigerian Dairy Goats are also Registerable with the American Goat Society (AGS)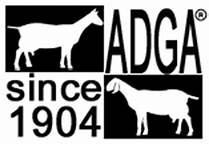 Member of American Dairy Goat Association

Member of American Goat Society

Member of

American Nigerian Dwarf Dairy Association

Member of Southwest Missouri Dairy Goat Association
Important! Please Read The Following Notice!
All information provided in these articles is based either on personal experience or information provided by others whose treatments and practices have been discussed fully with a vet for accuracy and effectiveness before passing them on to readers. Much of my page content is from Veterinary Colleges and Manuals.

In all cases, it is your personal responsibility to obtain veterinary services and advice before using any of the information provided in these articles. JoAnna Mertz is not a veterinarian. JoAnna Mertz does not sell prescription medications. Neither JoAnna Mertz nor applejofarms.com nor any of the contributors to this website will be held responsible for the use of any information contained herein.