Bella-Halls Creek
Halls Creek ZK Bella
Sex: Doe
DOB: 2-23-2021
Description: CHAMOISE; ABUNDANT WHITE;

BLUE EYES

Sire: Cedar View Zack *B ADGA #

PD2038376 Bella's sire, Zack. has 3 performance certificates to his name:

| | | | |
| --- | --- | --- | --- |
| 20211324946 | 10/25/2022 | 10/26/2022 | |
| 20190996227 | 8/26/2019 | 8/27/2019 | |
| 20190988044 | 7/30/2019 | 7/31/2019 | |
Here is the link to Zack's Pedigree information which is filled with high Performance records. In fact, all 6 goats on his Pedigree have multiple top Performance credentials. Link to information: Triple R Ridge Ranch | Nigerian Dwarf Farm & Australian Cattle Dogs | Edgewood, New Mexico - NDF Reference Bucks
Zack's Dam is pictured below along with her udder picture & picture credit goes to Mystic Hill Acres Nigerian Dwarf Goats
Bella is bred to PATS BLACK OAK FARM MCGIBBONY ADGA #PD2271962 pictured below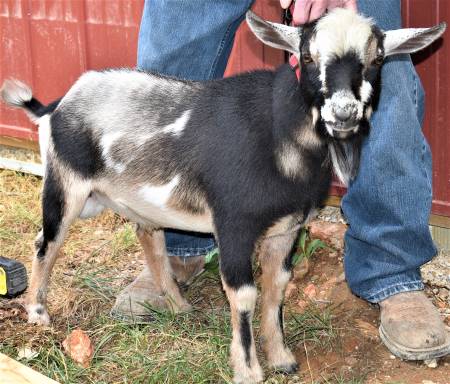 McGibbony is 10 months old in his picture above. He is 13 months old now.
About McGibbony:
McGibbony's Dam: SG LITTLE HOOFPRINTS KONA
PD1718990

McGibbony's Dam, Kona, is #1 of ADGA 2021 PERFORMANCE BREEDLEADERS. Each year ADGA recognizes the top ten producing does in each breed from the prior year's completed lactation records. Kona (McGibbony's Dam) is #1 in Top Ten MILK PRODUCTION (2130# of milk for the year) AND #1 in Top Ten Protein Production in the Nation as reported in last fall's ADGA 2021 PERFORMANCE BREEDLEADERS Report.
Bella is expected to kid on or about Saturday, March 2, 2024