ROSE-Mendota Acres
MENDOTA ACRES ISLE OF SKY ROSE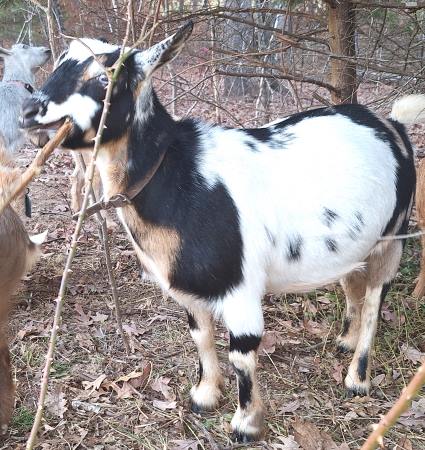 Sex: Doe
DOB: 02/19/2022
ADGA Registered: PD2318244
Sire: THE MENDOTA ACRES BLU MOON LEO PD1840164
Dam: MENDOTA ACRES DIPPD N CHOCOLAT PD2113161
Features: Blue Eyes; Wattles; Spots
Horns: Disbudded

Bred & Kidding: December 15, 2023 or March 13, 2024

Rose is bred to FLAT ROCK'S BERWICKSHIRE CALLUM, SILVER CHAMOISE WITH BLUE EYES

We bred Rose with her high potential of passing on a multitude of colors to her kids, with Flat Rocks Silver Callum. Their kids will have blue eyes.
Doelings $425
Bucklings $350
See Rose 2024 Reservations/Wait List page to make a reservation and read more about Rose and Callum.