*B Tavish-Tiny Hill Farm
Tiny Hill Scots Tavish *B
Tavish
Sex: Buck
ADGA Registration # PD2292177
DOB:3-26-2023
Description: Black With Minimal Random White
Horn: Disbudded
Sire: PD2177828 Tiny Hill

PowPowPower Stroke *B

Dam PD1712550 SG The Tiny Hill Farm

Sansa

1*M AR2016 LA2018,2016
Here's why AppleJo Farms chose 3 Tiny Hill Nigerian Does and 1 Tiny Hill Farm Nigerian Buck-Tavish, which all come from Does on the ADGA Top Ten elite list, to be the foundation of AppleJo Farms Nigerian Dwarf Dairy Goat Herd:

Breeder, Larissa Mullen states: "In 2022 we had ten does on the ADGA elite list. We've got dairy stars for days, and all our bucks are *B with daughters, sisters, or both daughters and full sisters on milk test. We've got two ADGA Young Sire Development Program Qualifiers, and in 2020 we had two ADGA Top Ten does. We are thrilled and completely shocked to announce how many Tiny Hill Farm goats made the August 2023 Elite list. FIFTEEN!"
Tavish is a *B buck and his sire is also a *B buck. What is a *B buck?
A buck is awarded his *B designation only when a sufficient number of a goat's progeny have earned their milking stars, then that goat also earns its milking stars. For bucks, this is the *B (ADGA) designation.
There are many details associated with earning the milking designations; however, stars and pluses in the pedigree are a good indicator that the goat has great genetic potential for milk production.
About Tavish's Sire:
Tiny Hill PowPowPower Stroke *B – Stroker (Tiny Hill Tormund Giantsbane *B X Tiny Hill Farm MiniMiniPowPow! 6*M) DOB 3/11/21 Shaded gold with random white and blue eyes. His paternal grand-dam is 2020 Top Ten doe SG The Tiny Hill Farm Sansa 1*M. Stroker is similar to his beloved great-grand dam, PowPow (ARMCH Fairlea Flower Power 4*D 4*M +EEE88), who he is loosely line bred on. Stroker carries recessive black coat coloration. He combines Tiny Hill's valuable genetics. This handsome buck's genetics help herds looking to improve udder quality, teat placement, and increase milking potential.
Pictured below is Stroker, Tavish's Sire: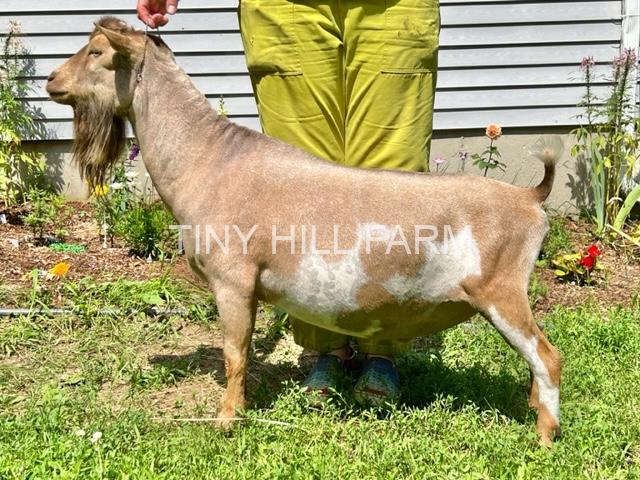 About Tavish Dam:
TOP TEN SG The Tiny Hill Farm Sansa 1*M VEEV89 – Sansa (Old Mountain Farm Stingn Ned L *+B X Old Mountain Farm Johana Faith) DOB 3/25/14 Chamoisee with moon spots. Sansa's ADGA page. Sansa's very stale 2021 linear appraisal score was VEEV89. In 2020, Sansa produced 1523lbs of milk over her 349 day long 4th lactation, and was ranked 7th for milk production and 4th for protein production on ADGA's 2020 Top Ten Breed Leader list. Elegant kids with awesome conformation and dairy potential are genetics Sansa passes on to Tavish.
Pictured below is Sansa's udder, Tavish Dam.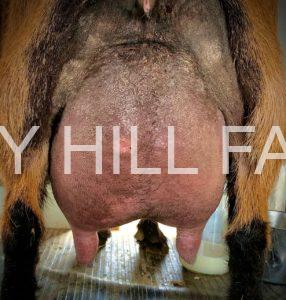 There are no products matching this criteria. Please try again.