Tigger-Bright Farms
Bright Farms MM Tigress
Tigger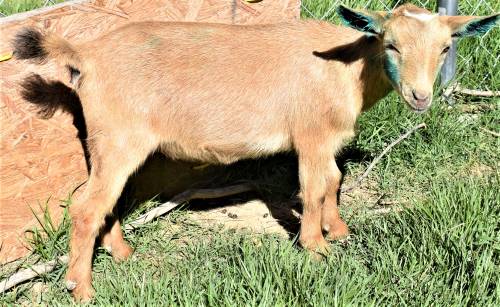 Sex: Doe
DOB: 5-20-23
ADGA Registration # PD2334827
Description: Gold, White Patch On Poll
Horn: Disbudded
Genetic Highlights: Heavy Rosasharn genetics
Tigger hails from Bright Farms in Colorado. We chose to bring Tigger to AppleJo Farms for several reasons including: Bright Farms is an ADGA Plus Member herd and are shown, milk tested and LA. They test yearly for CAE with negative results. Starting in 2019 they began guaranteeing to never produce disqualifying faults in the show ring.
Sire PD1897393 *DNA: PQ* Bright Farms Mercury's Moon
BRIGHT FARMS MERCURY'S MOON - D001897393 (PB Buck)
Mercury's Moon Sire: Rosasharn SP Mercury
Mercury's Moon Dam: GCH J-Nels LY Holy Tara - D001653982 FS89 (VEVE) @ 04-11
Dam: PD2087585 *DNA: PQ* Bright Farms Here Kitty Kitty
There are no products matching this criteria. Please try again.