Callie-Tiny Hill Farm
AppleJo Farms time to Introduce You to
Another Milk Starlette up-and-coming:

Tiny Hill Galloway Callie-Doe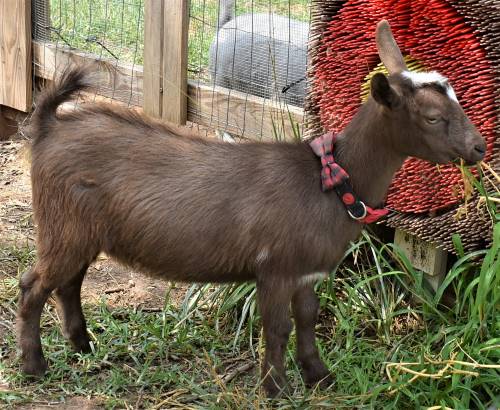 Callie traveled here to AppleJo Farms in Eldon, MO from Milton Mills, NH. Larissa Mulen and her family produce undoubtedly some of the finest Nigerian Dwarf Dairy Goats in this country!

PD2292179
DOB: 03/27/2023

Genetics: Tiny Hill Farm and SG SUGAR MOON and oodles of milk stars!

While it takes a whole year before we can begin planning to breed Callie and longer to begin her milk career, no time is wasted. Daily Callie is participating in behavioral conditioning. She is learning that having her udder touched is normal and to be expected and having her hoofs touched and examined and trimmed is nothing to fear--every day.

Callie has a huge personality already. She is the first one to meet us at the gate and is glued to you at the hip the whole time you are with the goats. She loves to be petted and snuggled and held. I am excited to have her here at AppleJo Farms----what an asset to our Dairy Herd and Farm! I especially love these qualities about Doone: excellent teats, excellent rear udder height, and medials.
Callie's Dam: ELITE Doe SG (pending) Tiny Hill Farm Raspberry Beret 2*M – Beret (Highest Living ETA/PTA Elite buck SG Sugar Moon V High Roller ++*B X TOP TEN SG Tiny Hill Farm Sansa 1*M VEEV89) DOB 3/3/20 Black with a large white belt. Beret's ADGA page. This doe combines the stylish conformation of her dam with her sire's dairy production. Beret made ADGA's 2021 Elite list as a yearling milker.
Callie's Sire: Tiny Hill Farm Ur Ine 4 SumFun *B – Bosley Gravel Jr.
(Tiny Hill Farm Pez *B X SG Kids Corral LB Krystal Blue 1*M VEEE90) DOB 7/16/18 Chocolate with random white and moon spots. Bosley's sire is Tiny Hill Farm Pez *B (Phoenix Farm Hard Candy *B X TOP TEN ELITE SG TinyHillFarm's SuperLois 6*M). Pez is a full brother to both Twix (ELITE Doe SG Tiny Hill Farm Twix 7*M) and Pixy (SG Tiny Hill Farm Pixy Stix 7*M). Bosley's grand dam is our legendary doe, TOP TEN ELITE SG The TinyHillFarm's SuperLois 6*M VEEV88. His dam (SG Kids Corral LB Krystal Blue 1*M VEEE90) earned an appraisal score of 90 as a 10-year-old 10th freshener. Bosley's maternal grandsire is the very influential buck MCH Woodhaven Farms Luzifer Blue +B. Bosley carries recessive black coat coloration and has produced wildly moon-spotted kids. Bosley's ADGA page.
Tiny Hill Farm Ur Ine 4 SumFun (Doone's Sire) pictured below (photo credit goes to Tiny Hill)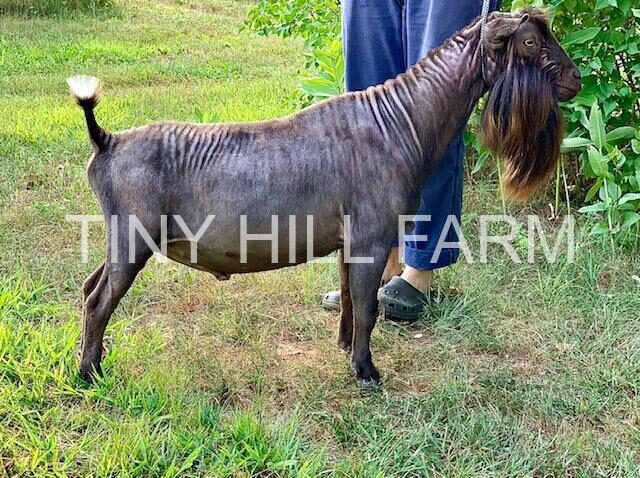 There are no products matching this criteria. Please try again.