Sweet Potato
Thrilled to add this Lovely Girl to my Herd!
Painted Pepper OMB Hot Potato
Thank you Mary Tyler Jordan of American Jewell Farm for making it possible for Sweet Potato to
Join AppleJo Farms herd!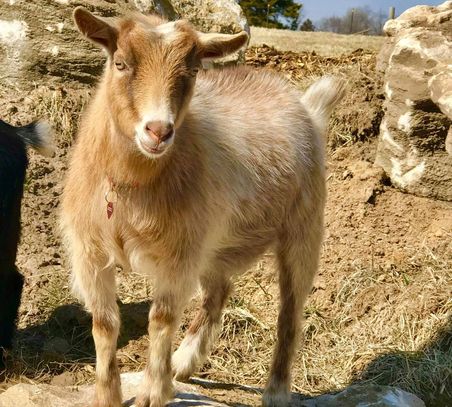 Sweet Potato is a Doe from Painted Pepper Farm. Mary Tyler-Jordan of American Jewell Farm, Colombia, MO, first fell in love with Painted Pepper RJ Cakewalk with her daughter SG Painted Pepper Lemon Meringue (residing at FeatherNScale Farm). In fact, one of her favorite does in her own herd (FeatherNScale Honey Lemon) is a Cakewalk granddaughter. She WANTED MORE CAKEWALK!
This doe comes from Lisa Reilich at Painted Pepper Farm, Steuben Maine. Painted Pepper Farm was the first Nigerian Dwarf organic dairy creamery in the United States and has built their herd for dairy production. Old Mountain Farm, Rosasharn Farm, Lost Valley Farm and Jobi Dairy are the foundation herds on which Painted Pepper Farm built their herd genetics exclusively since inception in 2005 — the year Nigerians were first recognized by ADGA as a Registered Dairy Goat Breed.
AppleJo Farms note: Next to American Jewell Farm and Old Mountain Farm, Painted Pepper Farm is really the only place I would go to improve my herd and further my breeding goals. These Farms have the some of the highest standards in terms of biosecurity, production and confirmation genetics.
Sweet Potato's sire is Old Mountain Farm Borax which is out of a beautiful doe that Mary fell in love with when visiting Cheryle at Old Mountain Farm (ADGA Herd of Distinction Awarded).
Sire: Old Mountain Farm Borax D002006503 (PB Buck) DOB: 3-18-2019

Dam: Painted Pepper RJ Cakewalk D1660388 3*M. PTA. 63M 3F 2P
Kids:
Sweet Potato is bred to: VE L.L. Bean who resides at American Jewell Farm. (Picture courtesy of American Jewell Farm)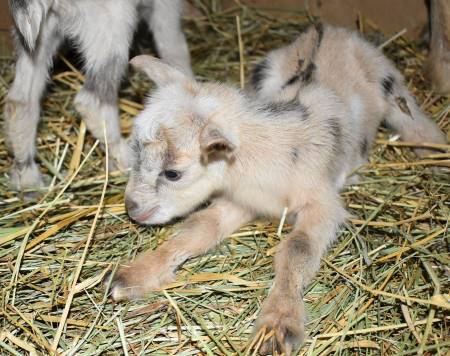 Sweet Potato kidded 7-21-2021!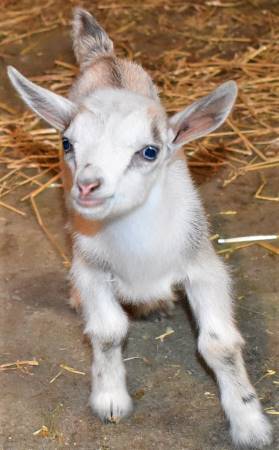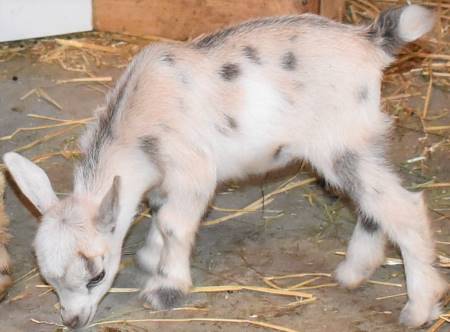 One doeling and one buckling! Blue Eyes + Moon Spots
Beans was brought home by Mary-Tyler Jordan from a trip back to Maine. He is a line breeding on CH Weedy Tavern Farm Lilly LA93 EEEE! Mary loves everything about his dam, grand dam, and pedigree so it wasn't hard to fall in love with this unicorn goat. He is also moon-spotted, blue-eyed, and polled which is all icing on the cake. The udders, show records, and LA scores that are behind this dude are just the best and he has matured into a beautiful, long bodied, angular buck with a jaw dropping top line.
He's had three junior does win Reserve (2) or Grand CH (1) this show season already!
There are no products matching this criteria. Please try again.