AppleJo Farms
Registered Purebred Nigerian Dwarf Dairy Goats
Ivy-Sans Gene Doe (Dixie Lee Davis: Breeder)
Ivy's Sires Dam is a GCH- Grand Champion

Ivy's Bucklings cost $600 and up
Ivy's Doelings cost $800 and up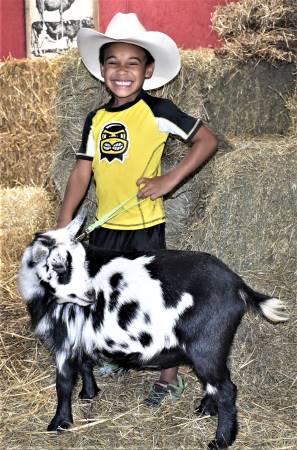 Registered Nigerian Dwarf Dairy Goat Doe
Barn Name: Ivy
ADGA Registered D2036587
Name: Sans Gene Z Brienne of Tarth
Color: Black w/heavy broken white, mostly black legs
Sire: Sans Gene GT Ziggy Stardust *B (pictured below is Ivy's Sire; photos courtesy of Dixie Lee Davis)
He has wonderful length of body, legs set well under him, angular and very open in the ribs. His Dam has an awesome mammary thus the great milk genetics Ivy passes on to her doelings and bucklings.
Sire's Dam pictured below: Flicker who is wonderfully angular, feminine and dairy. As a 3rd freshener, she produced 4-5lbs a day when milked twice a day. Milking once a day halfway through her lactation, she milked a steady quart daily as a 5th freshener. (Flicker seen below /photo courtesy of Dixie Lee Davis)
Dam: Sans Gene K Malala LA2019, 2018 (pictured below is Ivy's Dam; photos courtesty of Dixie Lee Davis).
5-22-2021 Update: Ivy's Dam: Sans Gene K Malala VEEV 89 03-01, finished her permanent championship yesterday, winning Grand Champion Sr Nigerian Doe in the first ring, over 133 Sr Nigerian doe entries at the Swwdga 3 Ring Dairy Goat Show .
Dam's Sire: Poppy Patch HB Evel Knievel VEE 90 +B
Dam's Dam: Sans Gene GT Hermione 2*M EEEV 90
show record:
1tx first, Jr Grand Champion, SWDGA 2017
1 tx Gr Champion Doe 2019

Malala (Ivy's Dam) is full sister to SGCH Sans Gene K Cookies and Cream 3*M EEEE 91 FS, who also milked 1070#, with 56# butterfat and 41# protein in 239 days on her 5th freshening.
Sire's Sire: Caprinos TMM Renegade *DNA* +B ST2017 LA2017, 2013
Sire's Dam: GCH Pholia Farm HB Flicker 3*M AR2012 LA2016, 2013
Dam's Sire: Poppy Patch HB Evel Knievel *DNA* +B AR2018 ST2017 LA2018, 2013. The Poppy Patch herd is an ADGA HERD OF DISTINCTION, a herd which has demonstrated a level of distinction above all others over time by ADGA programs such as DHI Production, Linear Appraisal and Shows. The ADGA Herd of Distinction Award honors only dedicated breeders whose high standards, perseverance, and success continue to elevate the quality and standards for dairy goats in the United States and ultimately throughout the rest of the world.
Dam's Dam: Sans Gene GT Hermione 2*M AR2016 LA2016, 2013
Dam's Dam pictured below/ photo's courtesy of Dixie Lee Davis
Ivy's Story: Ivy comes from Washington State's delightful Sans Gene herd of Nigerian Dwarf dairy goats. Dixie Lee Davis strives toward excellence in conformation, dairy type, milk production, longevity, and vigor in their breeding program. Sans Gene herd participated in ADGA linear appraisal in 2013, 2014, 2016, 2018, and 2019 and many ADGA shows with their Nigerians. Ivy's first kids coming soon at AppleJo Farms! Thanks to Dixie Lee Davis being so helpful in arranging her flight to Missouri!
(Ivy below with Goat Handler: Zayden. Ivy is pregnant in picture.)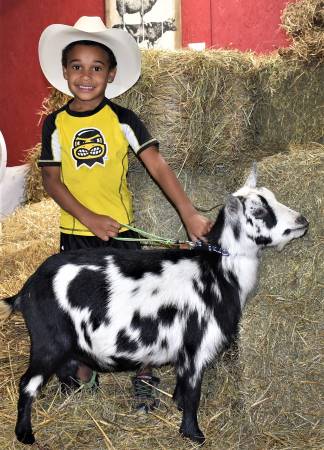 Reservation

for 1 Doeling: Shelby Shelton

Waitlist

for Doeling or Buckling: